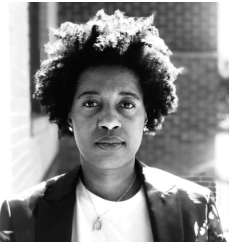 Brit Harley, Founder
Brit Harley brings to journalism deep experience as a local youth and community advocate. The Newark News & Story Collaborative focuses on elevating untold and underreported stories in Newark, with an approach that is centered in listening to residents, building deep relationships with them, and producing community-centered journalism.
The collaborative began as a pilot project Harley conceived while a News Voices fellow at WBGO, the local public radio outlet, and grew during a 2021 JSK Community Impact Fellowship. In mid-2021, Harley transitioned it to a free-standing, community-based initiative. So far, the Newark News and Story Collaborative has trained 17 community members in reporting, storytelling, and media-making to address long-standing information gaps in diverse communities that are not being served by legacy media.
During her senior JSK fellowship, Harley is focusing on organizational strategy and producing unique coverage that centers the concerns, voices, and information needs of the diverse communities in Newark. She is also receiving support for this work through her participation in the Tiny News Collective, which is specifically focused on early-stage local news organizations. The Newark News & Story Collaborative also is among the inaugural recipients of grants from the New Jersey Civic Information Consortium, a ground-breaking effort to engage local journalists, residents, and lawmakers to support public funding for new approaches to filling significant gaps in local news.
Before leaving WBGO in June 2021 to focus on building the Newark News & Story Collaborative, Harley was the station's first community engagement reporter. A Newark native, she has been involved in launching or running numerous youth and community programs.
Lenise Dazzel-Harris, Project Coordinator, Newark News & Story Collaborative
James Frazier, Reporter