Bringing Art to The People: Meet Maisah Conover
Digital creator and Newark native, Maisah Conover, is a curator and designer that created Cheap Art Dates, an Instagram account to introduce Newark residents to art and visual experiences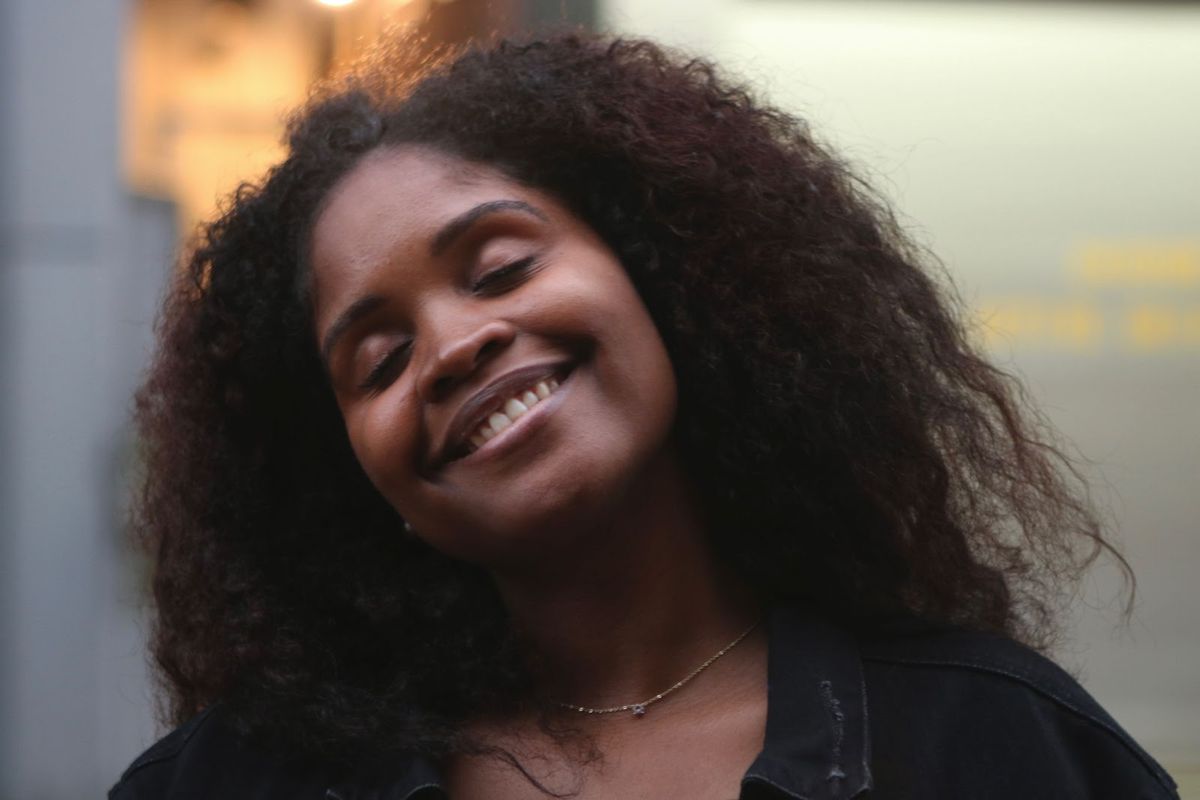 Q: What inspired you to become a curator?
MC: My grandmother was a painter so I grew up with an artistic background. I started drawing when I was in the seventh or eighth grade. I went to high school and I took a lot of art classes. I went to school for architecture and design and slowly phased out to doing more digital stuff. And then I got back into learning art history, color composition, geometry of design [it is like one of my favorite books]. I started getting back into the basics of learning what art actually was, and then I started getting into fine arts and I knew I wanted to create my own show or like to have my own show or like to curate my own show. But I wasn't a part of the art world so I used cheap art dates to give myself the title of curator. I wasn't a curator technically before but when I made cheap art dates I became a curator.
Q: Why did you create '  Cheap Art Dates '? What was your goal?
MC:  Cheap Art Dates is [it's crazy because it evolved into so many different things than I initially started out for it to be] But I would say it's kind of like a digitally curated archive and we're also a resource. So, initially I created cheap art dates for inner city kids like me that grew up not knowing that you could go right across the water to Chelsea and look at galleries and art for free.
I think the train was like $2.25 when I first started going. I would just take the train over [to New York City] and just walk down the street. I'd take the train to 23rd and walk all the way down to 10 th Ave, and from there, I found one gallery. Once you find one that's the gem, because you know where you can just find a bunch of galleries. I wanted other kids to be able to experience that so I made the page for that and then slowly people just started to follow my lead. I would post the location and tag them and then people would just pretty much go.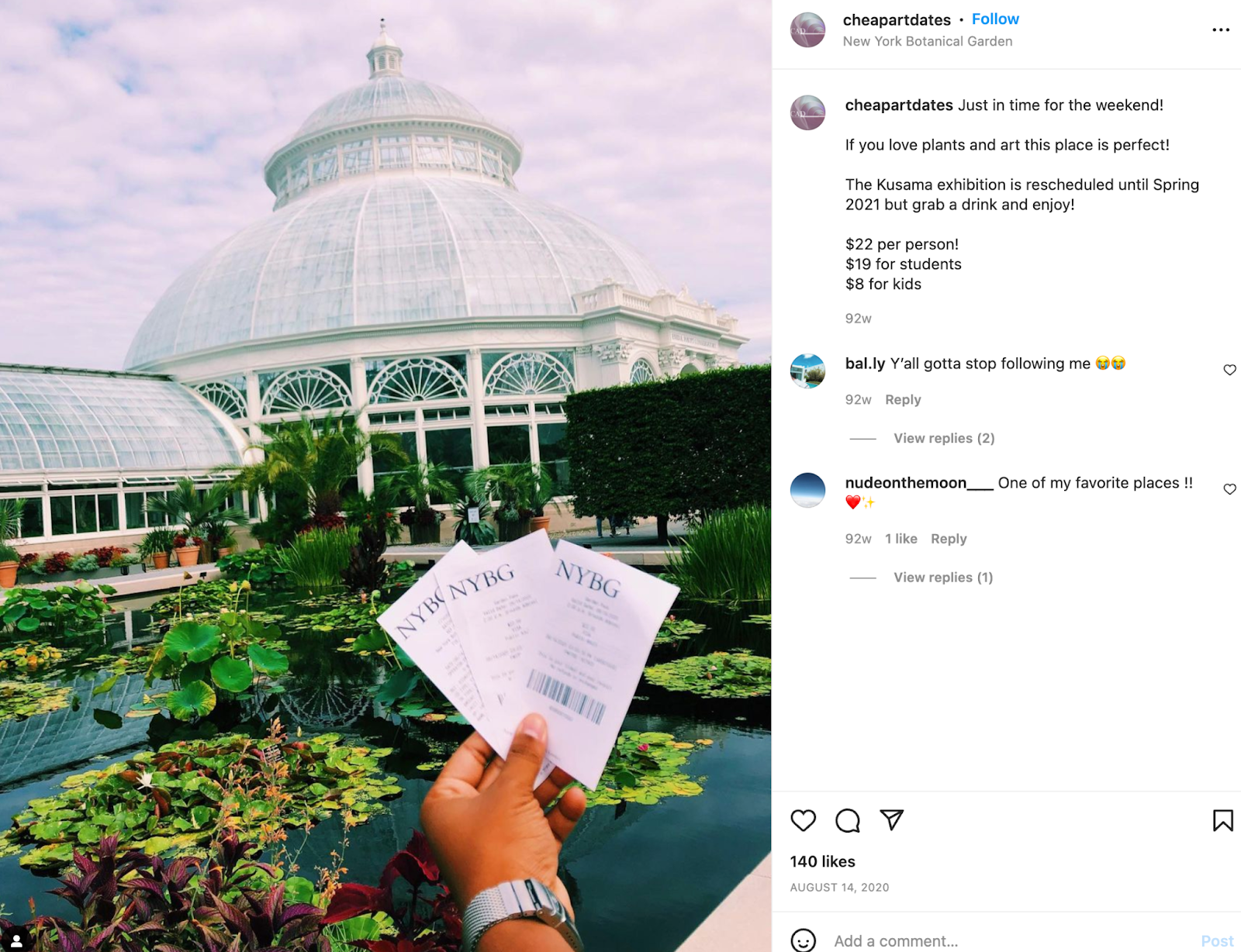 Q: What was your thought process when creating 'Cheap Art Dates'?
MC: I knew that to create a page I had to create something that was eye-catching, so people want to follow because Instagram is based off aesthetics. So if you're in beauty, anything that deals with beauty is pretty much marketable, but art is only marketable to people that are interested in it. I had to create a color scheme, an aesthetic, things that pull people in and that's like, okay, I want to go here.
In a way, I may have not photographed the art in the best way but I was photographing those experiences in a way where it was like pulling people in. Like, you didn't have to be interested in art you just knew, I want to take a picture in front of that. And that's kind of how I grabbed a lot of people in. And then next thing you know, it just, itself over time – the more pictures I started to take, I created this formula where I would come up with, like I said, different color schemes or a vibe visually and people liked it.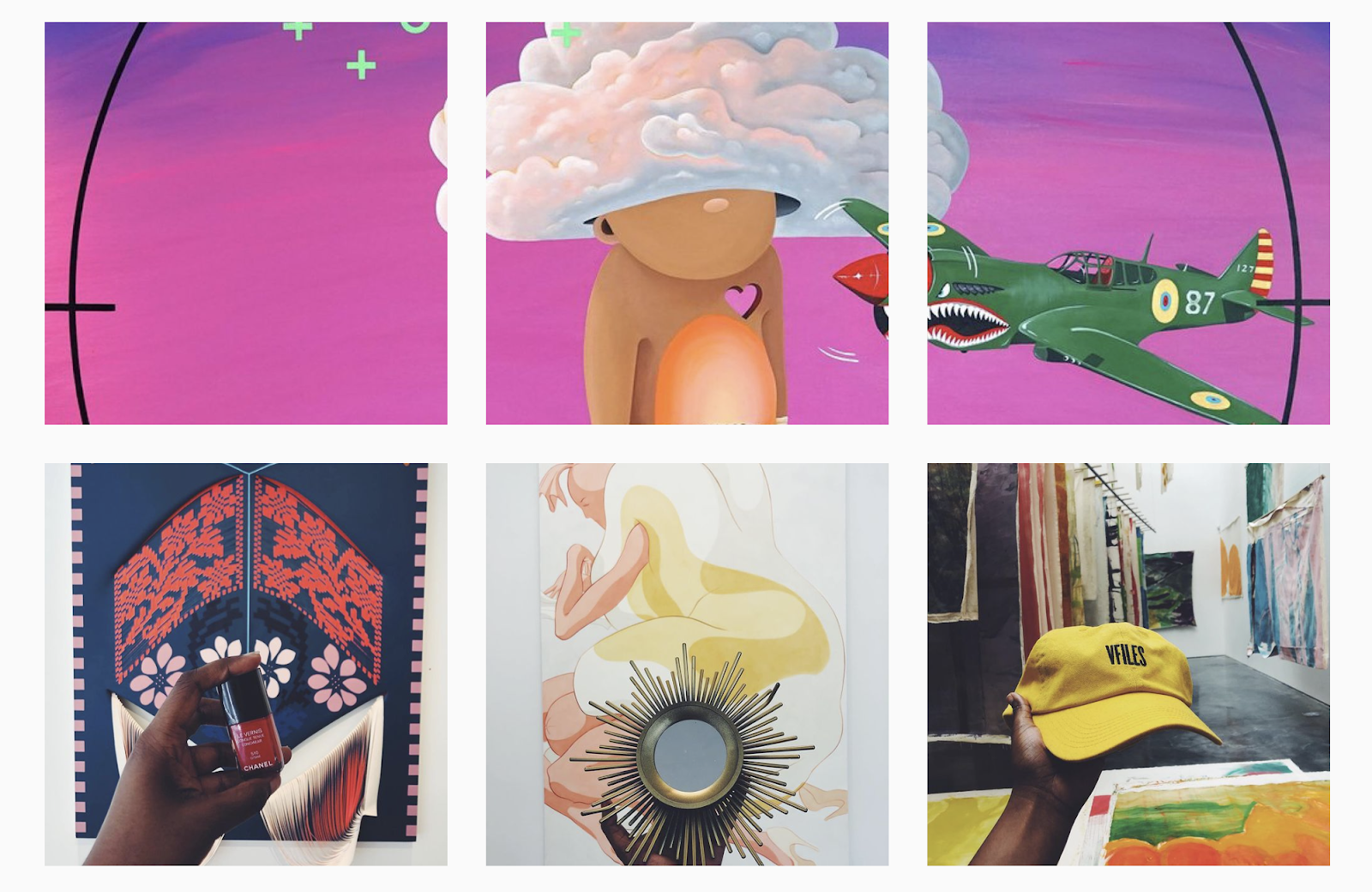 Q: You recently did the Mask Up Volume 2 pop-up. How was that? How was curating that event? What was the space that you were in?
Mask Up Volume 2 is an album from Newark artist Marcus Ariah.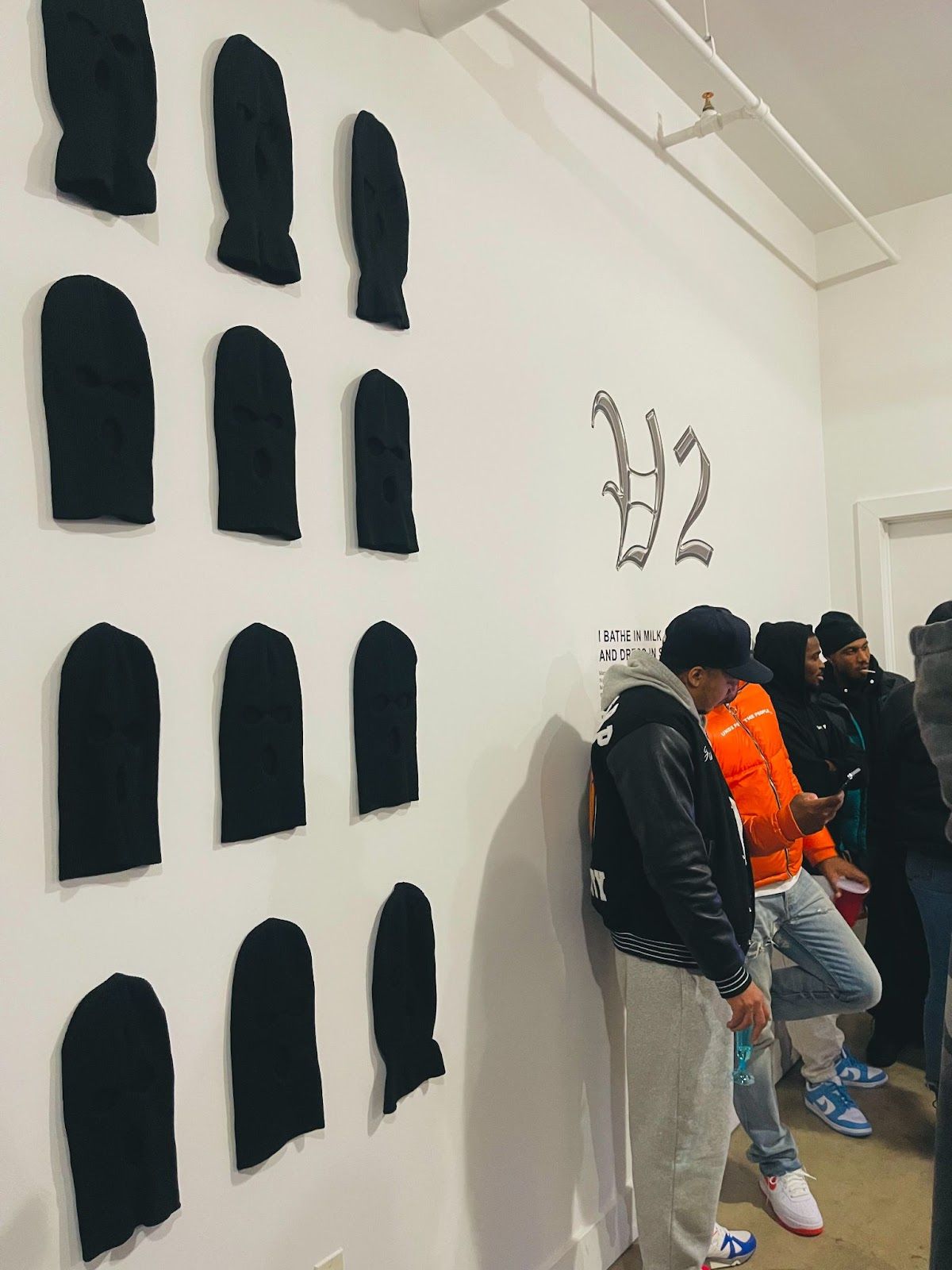 MC: I had attended a bunch of these like art experiences for brands – things like water, makeup or skincare. And I always said I wanted to do my own thing. But I feel like if you somebody like Marcus Ariah, he's a brand so I just pretty much took the motifs of those, those brands and I just applied it to my own.
But what was crazy about Marcus' project is I was able to not only do like the pop up, but I did his creative direction for the video. I was a part of a rollout team, where the vision, the visual art experience, we thought it out two weeks before so it's crazy [because] it was something that was expensive.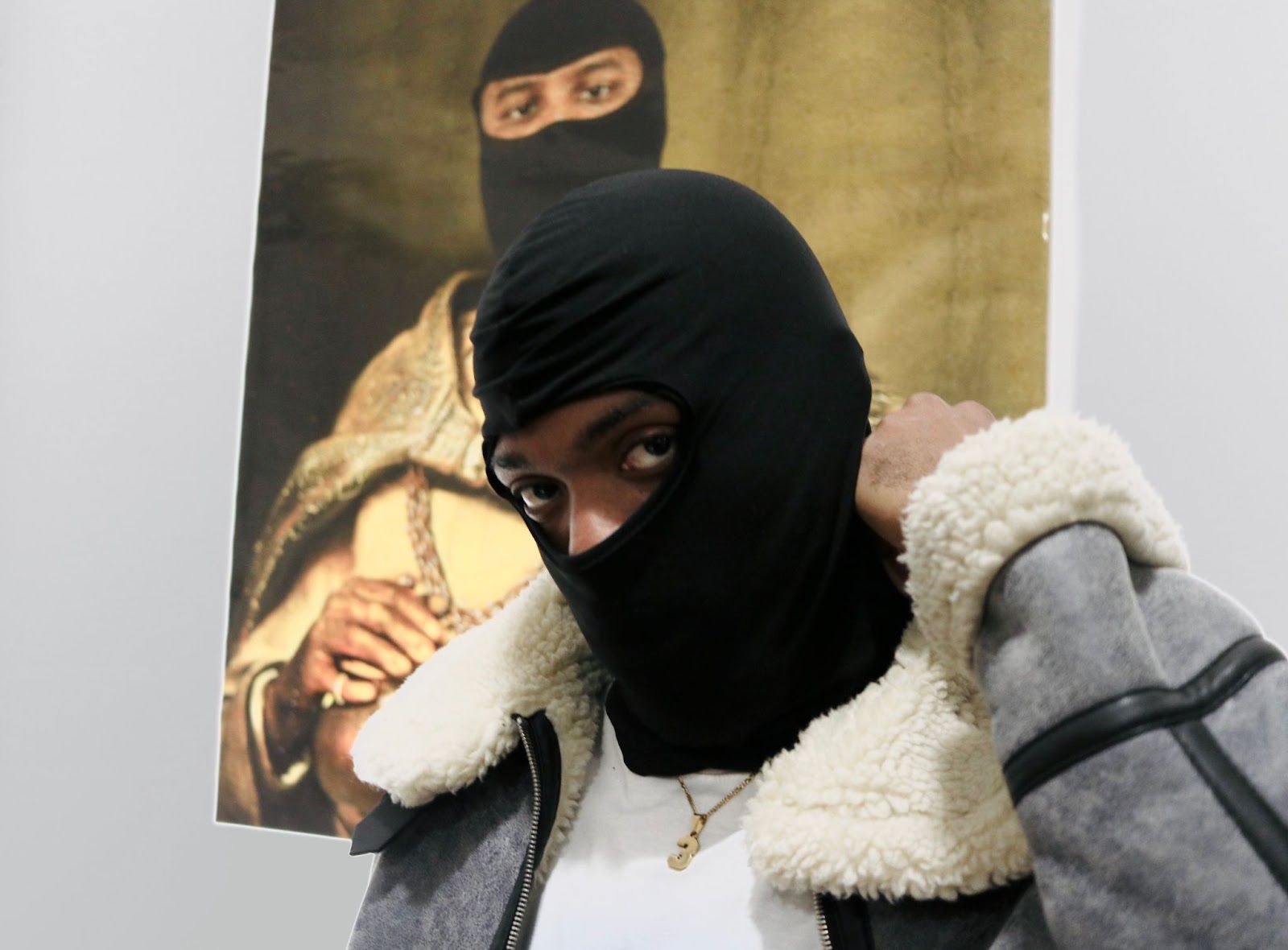 This was from me studying his music. We even put together a timeline from when he first started, going back to archives, looking into photography, listening to old music, putting together vinyls. I did a photo montage that was like a replica of a painting. It was crazy. I don't think I ever said I've ever been to anything like that for like an artist. But I was just thinking outside of the box. It was like I could gain experience from it. So could Marcus.
Q: What are your future plans? Do you see yourself doing something else like that? Not even for like an artist but a music artist?
MC: So I want to do more pop ups. I want to work with more brands and I want to do more creative direction. I want to do like my own visuals for cheap art dates like short films that deal with art and learning art, learn how to frame properly and learn how to purchase like that's my biggest goal is to teach people like specifically black people, and specifically people first from Newark like where I'm from how to purchase art.
Q: For someone who doesn't know where or how could they find out this information and visit a pop-up or a gallery?
MC: So the first thing I do when I want to find galleries I, I Google it. I type in "art gallery near me". But for me, I always send people on Halsey Street, because I'd be like, Yo, you go to Halsey Street, whatever you look for, whether it be art, food, culture, whatever, like, you got to start there. Even this sweatshirt I got on is BrownMill and this is Halsey Street.
Like, if you start there, you're going to find something. You also got to get to know your neighbors, whoever is down there, you see its an establishment and you see that it's black owners, familiar faces, like they look like us. You have to, you have to walk in and say hello and say, what is this about, ask questions. I think more than likely you'll get the answers. We're friendly with one another. I've been to most of the art galleries downtown and I've been to most of the clothing stores downtown that have black owned and I've had nothing but good experiences.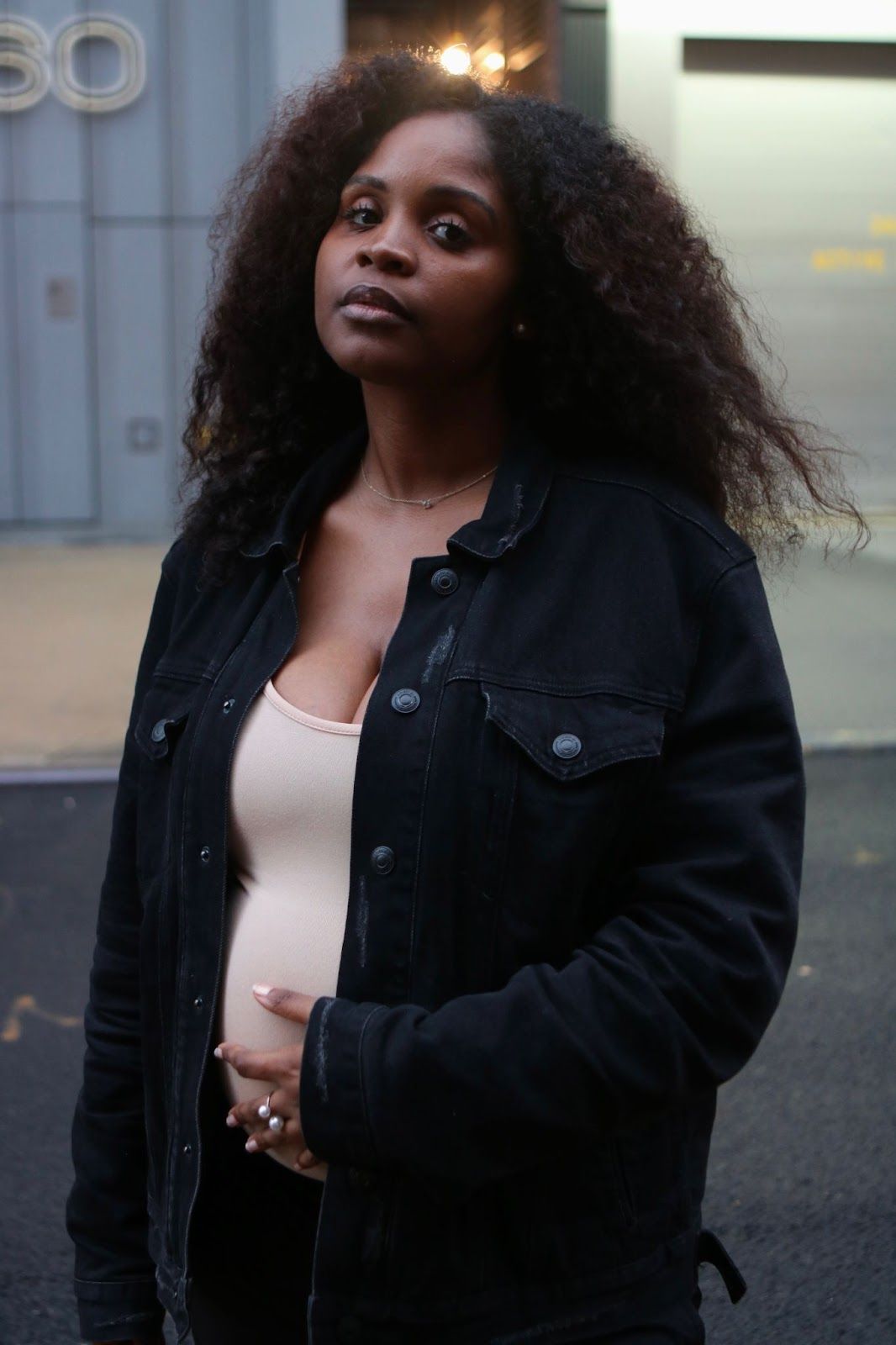 Q: As a visual creator, curator and designer, what is the overall goal of what you do? The number one thing that when you leave this earth, I'm remembered because I did…
MC: Number one, I want to be extremely knowledgeable on Black art and Black artists. That has been a goal of mine for many years. I've been studying Kerry James Marshall, Kara Walker, who is one of my favorites. I feel number two, I want to have some sort of, I don't know if I'm wanting it to be a website or app but I want a place where people can go and learn how to purchase art. I want other people to want art, learn to frame and things like that. Then I'm gonna have a gallery, like my own gallery.
I've always wanted my own gallery and to name it after my grandmother, because she was the artist; and she started this whole thing for all of us who are all talented because of my grandmother. And I want to pass it down to my kids. I want it to be like something that we have control over, over the art scene where we're from, and also, that we have ownership over the art. Because a lot of black art is not owned by black people, unfortunately. so I want to be like one of those gallery owners.
Aleisha Dudley is a Newark resident and photographer. She is a 2022 Reporting Fellow with the Newark News & Story Collaborative.